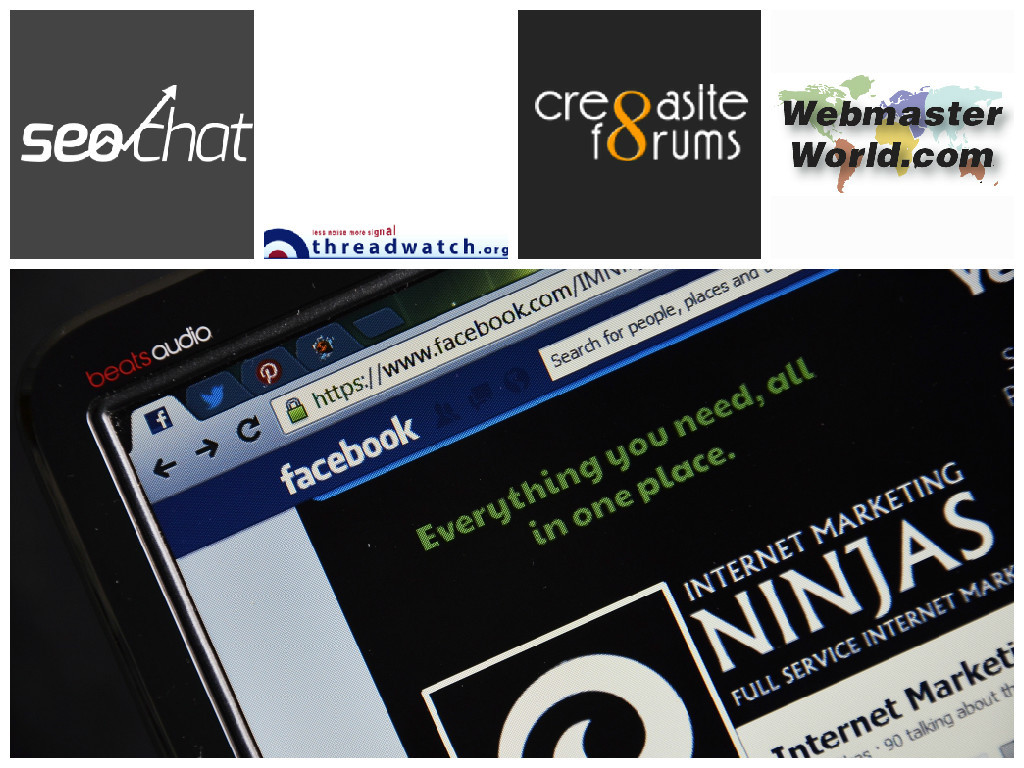 It's been an exceptionally busy week in our communities! Sometimes a slow news week is a blessing – it gives our users more time to focus on the nitty-gritty aspects of SEO and online marketing.
There are a few tidbits of news that we have to share though – Google's link command appears to be broken, Linux machines are facing down a critical glibc "GHOST" bug, and "Right to be Forgotten" requests have become IP specific, among others.
Let's dig in.
Say Farewell to the Google Link Command
Searching with "link:" before your search terms used to be something you could do in Google – but lately a lot of folks out there are saying that it doesn't seem to be working. Is that much of a loss?
As our Threadwatch reporter puts it,
"When was the last time you searched Google with the link: command? I can't remember either."
When was the last time you searched Google with the link: command?
Click To Tweet
Facebook's Instant Articles Will be Opened up to Any Publisher on April 12
Instant articles are claimed to be "fast and responsive," by Facebook. They use the technology of the Facebook app to load articles instantly and, supposedly, ten times faster than your run of the mill mobile web. They also come with neat tools like allowing readers to zoom in on photos, autoplay video, add voice clips and maps, and all sorts of things. Overall, it's pretty neat – and starting on April 12, it'll be available to any publisher that wants to use them.
In a previous WebmasterWorld thread, user webcentric wrote that instant articles could "[start] a completely new era in publishing," if they opened up to everyone.
"If this can be monetized by the publisher…who needs a website?" they wrote.
User Robert Charlton wrote that instant articles bring a "huge potential audience," and that Facebook's article selecting algorithm seemed effective. Get all the details for this latest announcement through the link above!
Wikimedia is NOT Building a Search Engine, Even Though it Really Sounds Like They Are
A Threadwatch reporter brings this one to us through Wikimedia's official blog. The idea of a "Google Killer" has been floating around in SEO circles for a long time. "Who will be the straw to break Google's back?" many wonder.
"Bing and Duck Duck Go are gaining market share, but neither is shaping up to overthrow Google any time soon," writes a Threadwatch user.
Thoughts? Neither Bing or Duck Duck Go is shaping up to overthrow Google any time soon..
Click To Tweet
And, although Wikimedia is working on something vaguely search engine-y (they call it a "Knowledge Engine") they've clarified that it won't be competing with Google.
Critical glibc GHOST Bug Leaves All Linux Machines Vulnerable
This new bug is being compared to Heartbleed on WebmasterWorld, and Ars Technica called it "a potentially catastrophic flaw in one of the Internet's core building blocks."
It was discovered by Google and Red Hat, and they've already discovered some ways to mitigate the damages.
There's a patch available which, if you need, you should definitely research and install. For details on how the bug works and what to do if you've got a Linux machine, take a look at the resources in this thread!
October 2015 Saw Record High Content Generation…But Record Low Engagement
"Content is king," gets repeated so often that maybe, finally, the market for content is becoming over-saturated. According to a Threadwatch reporter, "the average brand [generated] 87.5 posts per social media channel," in October 2015.
However, interactions per post clocked in at an absolutely abysmal 2.19 per 1000 followers. You can read about these figures, as well as the so-called "Content Marketing Paradox," over on Threadwatch!
Google Extends "Right to be Forgotten" Across Its Network for EU IPs
Previously, Right to be Forgotten requests only applied to the EU versions of Google – google.co.uk, google.fr, google.de, etc. If a citizen of the EU used google.com, though, those requests would no longer apply. In a recent announcement, Google has stated that they will extend Right to be Forgotten requests to IP instead of just country-specific domains.
But can anything really be forgotten on the Internet? WebmasterWorld user JS_Harris writes,
"…since this is purely based on access, and not actual data retention, there is NO WAY they will be able to conceal that data from someone who really wants it (see: NSA taps into Google nodes)…"
Google's Direct Answers and its Impact on SEO
Direct answers and the knowledge graph have been the subjects of much hand-wringing in the SEO community. Ever since they were created, webmasters have been afraid that they would steal traffic from their websites.
After all – if Google will answer your question right in SERPs, why bother clicking on a link? Google, however, has consistently stated that the knowledge graph does no damage to other websites. Check this discussion on SEO Chat for a little history!
Exposing Google Loopholes – How Brands Buy Their Way to the Top of Google
If you've searched Google recently you know that ads usually take up almost everything above the fold. The top results are generally paid. In this WebmasterWorld thread, users are discussing a recent article by Marty Weintraub where he wonders if this violates FTC guidelines about disclosure.
There's something of a loophole between Google's guidelines and its Quality Rater Guide that make it unclear how native advertisements are handled.
"I guess this is a loophole in the sense that there doesn't seem to be clear guidance from Google on ranking advertorials, just guidelines about not having value-passing links form them," writes user Andy Langton.
WebmasterWorld user robzilla writes that "Google News is the biggest loophole here, in my opinion. There's pretty much zero quality control, so it's relatively easy to start ranking for highly competitive trending searches." Definitely give this thread a read for a deeper understanding of the issues central to fair search.
Facebook Paid Page Likes – A Jump in Cost?
A user on Cre8asiteforums says that the cost per page like of Facebook ads seems to have leaped up.
"For a while it was usually around 70p for me, now it's £2.50+," writes user Nny777.
And it's not just them – since October or so, other users have noticed the same thing. But paid likes might not even be worth the money to begin with. User glyn writes,
"Paid likes are not the way to go unless you are really able to lock down the audience types. The outcome otherwise will be an increased page like of people that are not interested."
If you're experimenting with Facebook advertising, check out this thread!
The post Ghost Bugs and the Right to be Forgotten – Weekly Forum Roundup appeared first on Internet Marketing Ninjas Blog.
from Internet Marketing Ninjas Blog http://www.internetmarketingninjas.com/blog/sem-industry/ghost-bugs-empty-content-and-the-right-to-be-forgotten-weekly-forum-roundup/
via
IFTTT