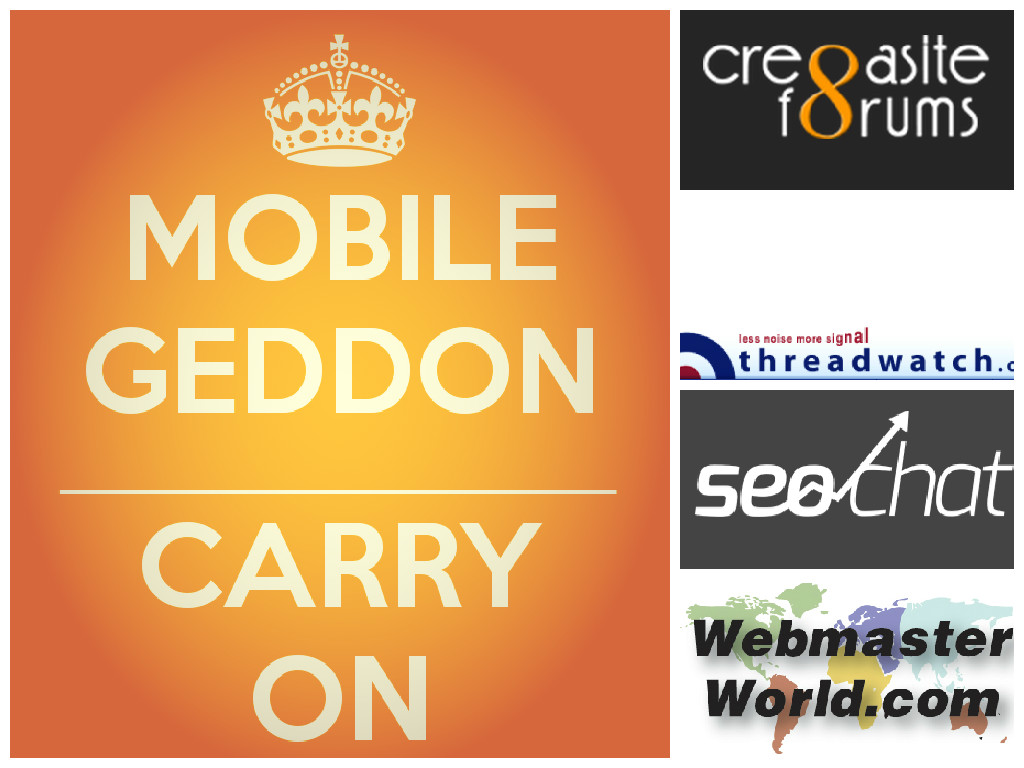 We all said it was boring. "Ho-hum, Mobilegeddon," we yawned. Well, it's not over yet. This very month, Google will be updating its mobile algorithm. And there are lots of other changes coming soon, too!
The Interactive Advertising Bureau is developing a new standard for "L.E.A.N." ads, Google is tightening its restrictions on payday and high-interest loan ads in the US, and the width of listings within organic search results has increased, among other things.
Our communities are discussing these topics and more – you can get up to date on all the news here!
Mobilegeddon Strikes Back!
Click To Tweet
Our title discussion comes from WebmasterWorld. This month, Google will be updating its mobile algorithm to give mobile friendly sites "greater weighting in mobile SERPs."
Google's blog post about it from back in March says that,
"If you've already made your site mobile-friendly, you will not be impacted by this update," and they also say to "…remember, the intent of the search query is still a very strong signal – so even if a page with high quality content is not mobile-friendly, it could still rank well if it has great, relevant content."
Mobilegeddon felt like a lot of hot air the first time around – will it make a bigger splash this time?
Collecting Links on "Credits" Pages
Let's start off with this discussion from WebmasterWorld. A user has a website full of webmaster resources. They're often cited around the web, and they're thinking about asking those who don't cite them to link to them on a "credits" or "resources" page. Sounds a little old school right? But it's not a shallow issue.
FranticFish writes that,
"I personally would never call this a bad idea. A link from a page of links is unlikely to be worth as much… but I couldn't see this coming close to hurting you unless… a sizable proportion of the sites that end up linking to you are doing dodgy stuff…or… you don't let people decide how to implement the link but try to game anchor text."
User Andy Langton agrees, saying that
"I've picked up various 'credit' style links over the years for scripts that include a reference to the originating URL and for licensed code that requires attribution."
But still, Robert Charlton suggests that emulating competitors isn't always the best strategy and, furthermore, with Penguin on the horizon a potentially risky link building campaign is hardly advisable. What do you think?
The IAB is Planning a New Ad Scoring System to Fight Ad Blockers
Ad blockers are a sensitive topic lately! There is a school of thought that says advertisers deserve what they've gotten – their ads were obnoxious and they focused only on the short-term… so of course users began blocking them.
The IAB must subscribe to a similar philosophy, because their "L.E.A.N." scoring system will aim to cut down on invasive ads and make advertising an all-around more pleasant thing. That acronym stands for
"Light, Encrypted, AdChoice supported, and Non-invasive advertising."
You can get all the details on Threadwatch!
Is There a Checklist For Dealing With Negative SEO?
Is There a Checklist For Dealing With Negative SEO?
Click To Tweet
It's a nightmare for many webmasters – some sly SEO gets it into their head that they can tank your site if they do all the wrong things for you. But the first step in a negative SEO attack is usually to determine if it's actually negative SEO. User McMohan is disavowing all the domains that they can find. User Shai adds,
"I would also use Ahrefs for the initial 'explosive' period of around 3 to 6 weeks… I would do a disavow daily if possible to begin with."
User aristotle says,
"These could just be links that spammers are creating to try and make their spam look legitimate by linking out to some reputable sites. This has been going on for years…"
Whether it's negative SEO or spam, check out this thread to get some pointers!
Advice For a Freelance Copywriter
The freelance lifestyle can be exciting, and the freedom that comes with it is exhilarating… but getting started is stressful! What advice would you give a newbie freelancer?
What emails would you actually respond to, how would you build a portfolio, and how do you network? Join this thread at SEO Chat and check out the great advice there…or share your personal experiences with us!
A Nail in the Coffin For Payday and High Interest Loan Ads
Google has never been very friendly to payday loan or high interest loan groups. They're notoriously cut-throat industries and they've been spamming Google for years. Google even came out with their own algorithm to combat them in the organic listings. Now they're putting their foot down on paid ads as well. Starting July 13,
"Google will stop accepting and displaying ads for a specific slice of payday and high interest loans. Any payday loan that requires repayment within 60 days, or any high interest loan with an APR of 36% or higher in the US will no longer be accepted," according to a Threadwatch story.
WebmasterWorld admin engine dropped by to add that while this change doesn't apply worldwide yet,
"I cannot see how it will only apply in the U.S.A. and not be rolled out across the world."
What do you think?
Google Feels Our Pain, Seeks Better Ad Delivery
"If ads drive the online economy and nobody sees them, do they make a sound when they are blocked?" asks Kim on Cre8asiteforums.
Well, Google is doing some research into just that subject! As mentioned in our above Threadwatch discussion about the L.E.A.N. grading system, intrusive ads have been a problem for years. Google, like the IAB, is interested in finding ways to make advertising lighter, more secure, and less intrusive. That means that they might be revising their ad policy. Check out the discussion here!
Google Increases the Width of Listings in Organic Search Results
Here's an interesting discussion and story, picked up from a monthly SERP update thread on WebmasterWorld. Google has increased the width of the organic search results column from 500 to 600 pixels and reduced the whitespace between results and sidebar features by 5 pixels. What's that mean?
Well, your titles now have 70 characters to work with instead of 60, and your descriptions could be increased by up to 20 characters. It also moves results further up the page naturally – not by shuffling any rankings, but just by reorganizing space. A nice gift after the 4-pack pushed organic results down, eh?
Subscribe to ninja industry updates via Flipboard!
The post Mobilegeddon Is Back! and More Weekly Forum Updates appeared first on Internet Marketing Ninjas Blog.
from Internet Marketing Ninjas Blog http://www.internetmarketingninjas.com/blog/sem-industry/mobilegeddon-strikes-back-weekly-forum-update/
via
IFTTT